Home
Talk

10
897pages on
this wiki
Welcome to Haven Wiki.
Read and discover the world of Haven.
Please note that this wiki might contain possible spoilers.
Read at your own risk.
Haven Storyline
Haven is a supernatural drama series loosely based on the Stephen King novel The Colorado Kid.

Shrewd and confident FBI agent Audrey Parker (Emily Rose) has a lost past when she arrives in the small town of Haven, Maine on a routine case. Before long, her natural curiosity leads her to the center of activity in this curious enclave, which turns out to be a longtime refuge for people who are affected by a range of supernatural afflictions. Along the way she meets Nathan Wuornos, a cop who can't feel anything, and Duke Crocker, a local smuggler.

Reflections
Duke's roiling troubles and a new threat to Audrey force them each to seek the help of potentially dangerous allies.
Read More...


Chemistry
When a trouble drives Haven's citizens to pursue their more primal desires, it takes everyone to keep Haven from coming unglued-distracting them from the menacing storm that is brewing.
Read More...
Featured Character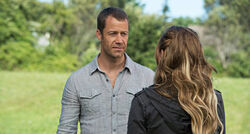 William is a strange man who appeared in The Barn before Audrey when she was Lexie, and told her she wasn't who she thought she was. He helps her find the door back to Haven, but doesn't return with her. William soon returns to Haven in William and appeared to be held hostage by Sinister and Heavy. When he is rescued by Audrey and Nathan, William appears not to have any memories about who he is and his time in the Barn.
Read more...
Forum Activity
Featured Poll
What do you think Mara is planning with Duke?