Welcome to Haven Wiki.
Read and discover the world of Haven.
Please note that this wiki might contain possible spoilers.
Read at your own risk.
Haven Storyline
Haven is a supernatural drama series loosely based on the Stephen King novel The Colorado Kid.

Shrewd and confident FBI agent Audrey Parker (Emily Rose) has a lost past when she arrives in the small town of Haven, Maine on a routine case. Before long, her natural curiosity leads her to the center of activity in this curious enclave, which turns out to be a longtime refuge for people who are affected by a range of supernatural afflictions. Along the way she meets Nathan Wuornos, a cop who can't feel anything, and Duke Crocker, a local smuggler.

Chosen
A shocking revelation threatens to upend the fragile stability of Haven. Mara's endgame is finally revealed, while Audrey and Nathan pursue a plan to stop her once and for all.
Read More...


New World Order
October 8, 2015
Dwight struggles to keep order when Duke's trouble wreaks havoc around town. Meanwhile, Audrey and Charlotte must work together to battle a mysterious fog that is trapping everyone inside Haven.
Read More....
Featured Character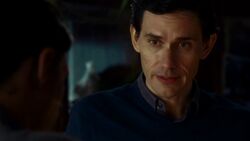 Wade Crocker was the half brother of Duke Crocker who lived in New York. When Duke disappears in the Barn and is presumed dead, Wade came to Haven to take care of The Grey Gull. 6 Months later Duke shows up alive at the Gull while Wade is working the bar. Wade is happy to see Duke back and serves him a drink. Although Wade decides to stay in Haven after he discovers his wife is cheating on him.
Read more...
Forum Activity
Featured Poll
How do you feel about Haven's Cancellation?