Charlotte Cross is the mother of Mara who went by the identity of a CDC epidemiologist and was revealed to be the person who created the Barn.
Background
Edit
She was married at one point and had Mara in the other world. Her husband later died, and Mara blamed Charlotte for it. At one point Mara crosses over into Haven and begins using Aether to create the Troubles. Charlotte follows and creates the Barn to teach her a lesson. She creates the 27-year cycle and gives Mara new personalities to help with the Troubles. Five hundred years later, Charlotte catches word that Mara is in Haven and assumes the identity of Dr. Charlotte Cross to investigate.
Season Five
Edit
Coming to Haven
Edit
Dr. Cross comes to Haven under a cover story of looking for Dave Teagues due to the biopsy taken from his leg. Vince Teagues discovers that the CDC has no knowledge of her presence in Haven and may be hiding a hidden agenda of her own. In "Reflections", it is revealed that Charlotte came to Haven because of Audrey Parker/Mara.
Revealed as Mara's mother
Edit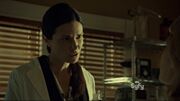 Vince and Audrey confront Charlotte about the photographs she has of past Audreys. She claims to have found them in the Haven Herald online. Dwight then appears, and Charlotte quickly takes him away. She is once again confronted by Audrey with Nathan, with the former questioning why Charlotte has a ring identical to her own. Dwight then reveals Audrey's identity as originally Mara. In response, Charlotte requests Nathan to give her ring back in exchange for the truth. Much to the discomfort of Nathan, he can feel her touch. It is then that Charlotte admits to being Mara's mother.
Appearances
Edit
The name for this character was originally Erin Reid, but was later changed to Charlotte Cross.
Ad blocker interference detected!
Wikia is a free-to-use site that makes money from advertising. We have a modified experience for viewers using ad blockers

Wikia is not accessible if you've made further modifications. Remove the custom ad blocker rule(s) and the page will load as expected.