Duke's Relationships
Talk

0
826pages on
this wiki
These are the relationships that Duke encounters during the history of his life. They are his romantic, business, friendly, and enemy relationships.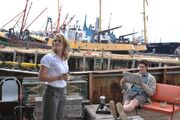 Audrey and Duke met when Duke saved Audrey's life after she was thrown into the water while unconscious. Audrey later returns the favor by getting him out of jail. In
Harmony
, Duke helps Audrey with a sick Nathan, doing her a favor by keeping Nathan on his boat. When Nathan wakes up, he calls Audrey. When they are looking for Ray McBeen's boat, Duke uses this as leverage to come along, which Audrey doesn't want, but Duke insists that he wants to know what the hell is going on. Although it doesn't work as Duke planned as Audrey constantly tells him to stay by the car. In Magic Hour P1, Duke and Audrey start kissing and nearly go further but Audrey stops, saying that there was too little time to fix their friendship once it broke.  In
Consumed
, Audrey does by the docks to talk to Duke about Lucy, but Duke is with a client, and comments to Audrey he doesn't talk to cop, even the one he likes.
After the Mysterious Woman's return to Haven, Duke is the first person to discover that Audrey Parker and Lexi DeWitt are an intergrated personality, and that even though Lexi is the Woman's public face, this is actually a front for Audrey rather than a completely new persona.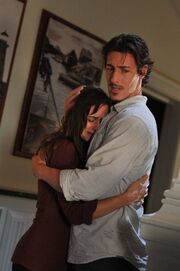 Duke and Julia grew up in Haven together. Duke claims when Julia was little she used to follow him around due to her "huge" crush on him.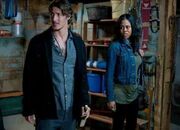 She was Duke's wife and fellow thief. It is unknown how they met or how long they were married until she took off. Evi returned in
A Tale of Two Audreys
, Duke was surprised to see her back and knows Evi is up to something.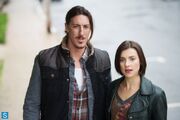 Jennifer and Duke first met in Boston after the Barn spat Duke out. Jennifer helped Duke escape the hospital and meet up with Nathan.  After returning to Haven, Jennifer and Duke form a congenial relationship, with him acting as her landlord and guide to Haven and the Troubled.  Lexi's appearance puts a strain on their relationship, with Jennifer believing Duke wants Lexi to fill Audrey's place--the role of closest female friend-- in Duke's life.
When Duke is posessed by Tyler, a Troubled young man in The New Girl, he kisses Jennifer.  Though she was surprised, her reaction is positive, and she agrees to let "Puppet Duke" accompany her when she moves back to Boston.  When Puppet Duke stops by Haven's medical center, he behaves in ways that let Jennifer know he's been possessed, and she threatens him with a gun.
When Duke is no longer possessed by Tyler, he offers Jennifer a room on his boat.  They talk about the kiss between Puppet Duke and Jennifer, and Duke points out that Jennifer kissed back.
After killing and burying his brother, Duke reexamines his life and decides he's become a "schmuck".  He asks Jennifer to remove her things from his boat and seriously considers leaving Haven, but when two of Reverend Driscoll's nephews develop a Trouble and Audrey is able to solve it with Duke's help but without his Trouble, Duke decides to stay in Haven.  After making this decision, Duke instigates a physical relationship and Jennifer reciporicates.