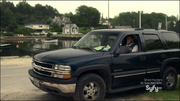 The SUV owned by Dwight Hendrickson is a dark blue Chevrolet GMT800 with the license plate number 8271 N8.
The Suburban served as Hendrickson's primarily vehicle in his capacity as Chief of the Haven Police Department, and replaced the Ford Super Duty that Hendrickson drove until December of 2010.
Appearances
Edit
Ad blocker interference detected!
Wikia is a free-to-use site that makes money from advertising. We have a modified experience for viewers using ad blockers

Wikia is not accessible if you've made further modifications. Remove the custom ad blocker rule(s) and the page will load as expected.