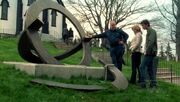 A massive spherical
sculpture stood in front of The Good Shepherd Church
in
Haven, Maine
. The sculpture was made of a shell of bronze and filled with nearly three tons of sand. It was purchased by the Church in 1968 and installed in 1969.
In June of 2010, the bronze sphere within the sculpture was telekinetically broken loose and rolled through Haven before crashing through the wall of the Rust Bucket.
Appearances
Edit
Ad blocker interference detected!
Wikia is a free-to-use site that makes money from advertising. We have a modified experience for viewers using ad blockers

Wikia is not accessible if you've made further modifications. Remove the custom ad blocker rule(s) and the page will load as expected.