The Haven Court House is the [[wikipedia:Courthouse|local court of law of Haven, Maine.
On 25 October 2010, Duke Crocker appeared at the Court House before Judge Boone to argue against a parking citation. He was ordered to pay the $5,000 liquor license for the Grey Gull instead.
Appearances
Edit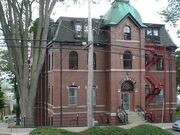 Exterior shots of the Haven Town Hall were filmed at the Townsend Street frontage of the Lunenburg Town Hall at 119 Cumberland Street.
Ad blocker interference detected!
Wikia is a free-to-use site that makes money from advertising. We have a modified experience for viewers using ad blockers

Wikia is not accessible if you've made further modifications. Remove the custom ad blocker rule(s) and the page will load as expected.