Volume 104 of the Haven Herald was released online by Syfy. It covers the events of "Burned", and covers up the Duke Crocker's fall and odd behavior, caused by Ginger Danvers' Trouble. No explanation for Lance Zerner's abrupt public suicide is given and there's no coverage of the bad car accident that the Guard's transport van was involved in. There was also on article on Looking Glass Florist, the store that the Guard was working out of in this episode. Both of these articles were written by Vince Teagues.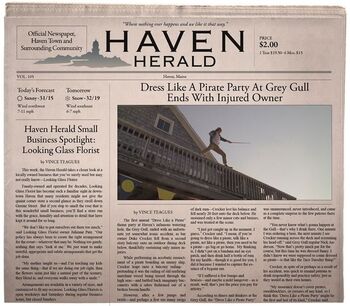 Transcriptions
Edit
Dress Like A Pirate Party At Grey Gull
Ends With Injured Owner

Edit
      The first annual "Dress Like a Pirate"
theme party at Haven's infamous
watering hole, the Grey Gull, ended with an unfortu-
nate yet somewhat ironic accident, as bar
owner Duke Crocker fell from a second
story balcony onto an outdoor dining deck
below, thankfully sustaining only minor in-
juries.


      While performing an acrobatic reenact-
ment of a pirate boarding an enemy ship,
Crocker leapt onto a balcony railing-
pretending it was the railing of old seafaring
merchant vessel being tosses through the
high seas—and battled back imaginary buc-
caneers with a sabre fashioned out of a
broken broom handle.


      However, after a few jumps and
twirls—and perhaps a few too many swigs
of dark rum—Crocker lost his balance and
fell nearly 20 feet onto the dock below. He
sustained only a few minor cuts and bruises,
and was treated at the scene.


      "I just got caught up in the moment, I
guess," Crocker said. "I mean, if you're
going to dress like a pirate, talk like a
pirate, act like a pirate, then you need to be
a pirate—go big or go home. My thinking
is, I didn't put on a bandana and an eye
patch, and then drink half a bottle of rum
for my health—though it is good for you. I
did it because I wanted to capture the es-
sence of a bygone era.


      "If I suffered a few bumps and
bruises—and maybe a mild hangover—as a
result, well that's just the price you pay for
artistry."


      According to diners and drinkers at the
Grey Gull, the "Dress Like a Pirate Party"
was unannounced, never introduced, and came
as a complete surprise to the few patrons there
at the time.


      "You never know what's gonna happen at
the Gull—That's why I drink there. One minute
I was ordering a beer, the next minute I see
Crocker running across the deck and screaming
his head odd," said Grey Gull regular Nick An-
derson. "Now that's pretty much par for the
course, but this time he was dressed funny. I
didn't know we were supposed to come dressed
as pirate—is that like the Taco Tuesday thing?


      "Crocker, in spite of or perhaps as a result of
his accident, was quick to remind patrons to
drink responsibly and practice safety, just as
they would in their own homes.


      "My insurance doesn't cover pirates,
swashbucklers or corsairs of any kind, so I
think this 'Dress Like a Pirate Party' might be
the first and last of its kind," Crocker said.

— by Vince Teagues
Haven Herald Small
Business Spotlight:
Looking Glass Florist

Edit
This week, the Haven Herald takes a closer look at a
locally owned business that you've surely used but may
not really know—Looking Glass Florist.


      Family-owned and operated for decades, Looking
Glass Florist has become such a familiar sight in down-
town Haven that many residents might not give the
quaint corner store a second glance as they stroll down
Greene Street. But if you stop to smell the rose that is
this wonderful small business, you'll find a store run
with the grace, humility and attention to detail that have
kept it around for so long.


      "We don't like to put ourselves out there too much,"
said Looking Glass Florist owner Julienne Pate.[note 1] "Our
policy has always been to create the right arrangement
for the event—whatever that may be. Nothing too gaudy,
nothing that says 'look at me.' We just want to make
tasteful, appropriate and subtle arrangements that get the
job done.


      "My mother taught us—and I'm teaching my kids
the same thing—that if we are doing our job right, then
the flowers seem just like a natural part of the scenery,
they blend in, and everyone walks away with a smile."


      Arrangements are available in a variety of sizes, and
customized to fit any occasion. Looking Glass Florists is
open weekdays and Saturdays during regular business
hours, but closed Sundays.

— by Vince Teagues
References
Edit
Ad blocker interference detected!
Wikia is a free-to-use site that makes money from advertising. We have a modified experience for viewers using ad blockers

Wikia is not accessible if you've made further modifications. Remove the custom ad blocker rule(s) and the page will load as expected.