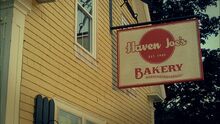 Haven Joe's Bakery is a bakery located in Haven, Maine.
The business opened in 1949, and is operated by Joe Underhill.
Background
Edit
In Silent Night, Nathan and Audrey are eating breakfast there when Audrey notices Christmas decorations appearing in Haven. Audrey later returns to the Bakery and it is named something else.
Agent Howard left James Cogan at the Bakery after the two emerged from the Barn in late November of 2010.
Appearances
Edit
Ad blocker interference detected!
Wikia is a free-to-use site that makes money from advertising. We have a modified experience for viewers using ad blockers

Wikia is not accessible if you've made further modifications. Remove the custom ad blocker rule(s) and the page will load as expected.