Welcome to Haven Wiki.
Read and discover the world of Haven.
Please note that this wiki might contain possible spoilers.
Read at your own risk.
Haven Storyline
Haven is a supernatural drama series loosely based on the Stephen King novel The Colorado Kid.

Shrewd and confident FBI agent Audrey Parker (Emily Rose) has a lost past when she arrives in the small town of Haven, Maine on a routine case. Before long, her natural curiosity leads her to the center of activity in this curious enclave, which turns out to be a longtime refuge for people who are affected by a range of supernatural afflictions. Along the way she meets Nathan Wuornos, a cop who can't feel anything, and Duke Crocker, a local smuggler.

Chosen
A shocking revelation threatens to upend the fragile stability of Haven. Mara's endgame is finally revealed, while Audrey and Nathan pursue a plan to stop her once and for all.
Read More...


Part 2
Part 1 of season 5 has finished airing. Part 2 is expected to air in the fall of 2015. Stay Tuned!
Read up on the season...
Featured Character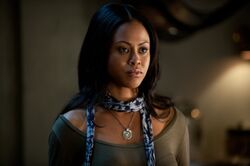 Evidence Ryan was Duke Crocker's wife. Like Duke she was skilled in the con arts, but the two had a falling out some time ago. She later returns to Haven in A Tale of Two Audreys much to Duke's surprise. Evi tries to get Duke to warm up to her, but he refuses. So she attempts to help him, like stealing the FBI file from the other Audrey. But that wasn't all she was after. She joins up with Duke in finding the Box and makes it a competition. It is later revealed that Evidence is working with Reverend Driscoll.
Read more...
Forum Activity
Featured Poll
What story line are you excited for in part 2?