Welcome to Haven Wiki.
Read and discover the world of Haven.
Please note that this wiki contains possible spoilers.
Read at your own risk.
Haven Storyline
Haven is a supernatural drama series loosely based on the Stephen King novel The Colorado Kid.

Shrewd and confident FBI agent Audrey Parker (Emily Rose) has a lost past when she arrives in the small town of Haven, Maine on a routine case. Before long, her natural curiosity leads her to the center of activity in this curious enclave, which turns out to be a longtime refuge for people who are affected by a range of supernatural afflictions. Along the way she meets Nathan Wuornos, a cop who can't feel anything, and Duke Crocker, a local smuggler.
Featured Character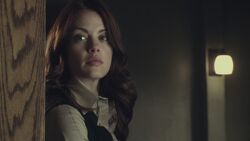 Claire Callahan was a psychiatrist working for the Haven PD, and worked with troubled people. She would be the one who would deal with the Troubled people after Audrey was done helping them. Claire made her first appearance in Stay when Nathan calls Claire in to help Audrey after her abduction. Claire and Audrey had soon become friends and worked together to help the troubled.
Read more...