Home
Talk

10
419pages on
this wiki
Welcome to Haven Wiki.
The troubles are back.
Read and discover the world of Haven.
Haven Storyline
Haven is a supernatural drama series loosely based on the Stephen King novel The Colorado Kid.

Shrewd and confident FBI agent Audrey Parker (Emily Rose) has a lost past when she arrives in the small town of Haven, Maine on a routine case. Before long, her natural curiosity leads her to the center of activity in this curious enclave, which turns out to be a longtime refuge for people who are affected by a range of supernatural afflictions. Along the way she meets Nathan Wuornos, a cop who can't feel anything, and Duke Crocker, a local smuggler.

Thanks For The Memories
Audrey is determined to break the Haven cycle, save the town and end the Troubles once and for all but will fate let her?
Read More...


Season 4
Haven was renewed for a fourth season and is currently filming. The current title is Fallout for the opening episode.
Read More...
Featured Character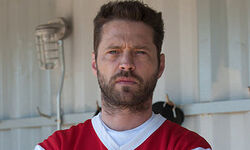 Chris Brodie is the son of the late Mayor Brody and is a troubled individual. His trouble was passed down to him when his father passed away. His trouble makes people automatically like him despite his rude personality. Audrey encounters him in Sparks and Recreation and helps investigate his father's death. Noticing Audrey is not swaying due to his trouble, Brody asks Audrey out, and the two begin to date.
Read more...
Featured Poll
Which character will you miss the most?
Featured Quote
"What do you want?"
"Why do I have to want something?"
"Because your lips are moving."
-Duke and Evidence
Blog Posts
As you all have heard now, Syfy decided on Friday (December 14, 2012)  to not air the episode Reunion in the wake of the shooting that took place eariler. The episode itself contained violence in a high school that was not a good idea to air after wh…

Read more >

Syfy has announced that they are renewing Haven for a fourth season of 13 episodes! Syfy announced this via a press release saying:

SYFY RENEWS HIT SERIES HAVEN FOR FOURTH SEASON WITH 13 NEW EPISODES

SERIES IS THE #1 CABLE PROGRAM AMONG ADULTS 18-49 A…

Read more >