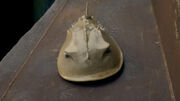 The
Horseshoe Crab
appearing in Haven is a sign that the time of great evil is coming. It is first mentioned in the
Cabot journal
that is owned by Vince and Dave Teagues.
Jennifer Mason begins seeing one following her in Crush. Only Jennifer can see it though.
Appearances
Edit
Ad blocker interference detected!
Wikia is a free-to-use site that makes money from advertising. We have a modified experience for viewers using ad blockers

Wikia is not accessible if you've made further modifications. Remove the custom ad blocker rule(s) and the page will load as expected.