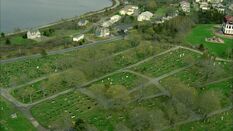 Potter's Field is a cemetery located in Haven, Maine.
The body of The Colorado Kid was allegedly buried in Plot #301 of the cemetery, but when the grave was exhumed in 2010 by Audrey Parker, Nathan Wuornos, Dwight Hendrickson, Vince Teagues and Dave Teagues, the casket was revealed to contain dozens of bricks and a message – "find him before the Hunter" – written by Parker.
Appearances
Edit
Potter's Field was filmed on the grounds of the Lunenburg Academy in Lunenburg, Nova Scotia.
Ad blocker interference detected!
Wikia is a free-to-use site that makes money from advertising. We have a modified experience for viewers using ad blockers

Wikia is not accessible if you've made further modifications. Remove the custom ad blocker rule(s) and the page will load as expected.