Riley is a member of the Guard.
Background
Edit
Riley is a member of the Guard who's trouble is unknown. She is employed by Duke Crocker as a waitress at The Grey Gull in Haven . 
Season Four
Edit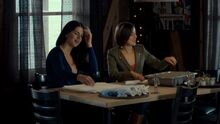 In "Survivors", Riley is seen serving drinks at The Grey Gull and is later seen in "Bad Blood" talking with Jennifer Mason while working.
Season Five
Edit
In "Spotlight" she is seen with other members of the guard while looking for Nathan and Mara. Riley is later seen in "Nowhere Man" when she hits Audrey Parker over the head with a baseball bat thinking she is Mara, she is present while Audrey is being held by Mitchell. In "Blind Spot" she helps to prepare the police station against Croatoan.
Appearances
Edit
The characters name was revealed by the actress through Twitter.
It is possible that she filled the void that Jordan's death left in the Guard after she went 'missing'.
Ad blocker interference detected!
Wikia is a free-to-use site that makes money from advertising. We have a modified experience for viewers using ad blockers

Wikia is not accessible if you've made further modifications. Remove the custom ad blocker rule(s) and the page will load as expected.