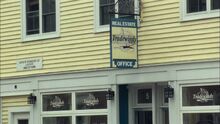 Tradewinds is a real estate brokerage located in Haven, Maine.
On 19 August 2010, Tradewinds broker Joe Sandimaro was found dead in his office.
In early October of 2010, Tracy Garrick used the Realtor to sell her house.
By July of 2011, Steve Lumb worked for the realtor.
Appearances
Edit
Ad blocker interference detected!
Wikia is a free-to-use site that makes money from advertising. We have a modified experience for viewers using ad blockers

Wikia is not accessible if you've made further modifications. Remove the custom ad blocker rule(s) and the page will load as expected.