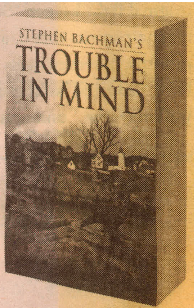 Trouble in Mind[note 1] is a horror novel written by Stephen Bachman. [note 2] It is the writer's sixty-eighth book and his thirty-seventh number one bestseller.[note 3] The story takes place in the fictional Maine town of Dayton Ferry, and draws inspiration from the Troubles experienced by many of Haven's residents. The heroine, when angry can make someone's blood boil.[note 4] Another character has their drawings come to life and stab people.[note 5]
Bachman held a book-signing at Bea's Bookstore in Haven, Maine, and Lawrence Fellows wrote a review of the book for an issue of the Haven Herald.[6]
References
Edit
Ad blocker interference detected!
Wikia is a free-to-use site that makes money from advertising. We have a modified experience for viewers using ad blockers

Wikia is not accessible if you've made further modifications. Remove the custom ad blocker rule(s) and the page will load as expected.